Business
Wire Fraud: 10 Reasons, Excuses and Solutions to Internet Scam By Taiwo Ayodele
80 Nigerians Wire Fraud: 10 Reasons, Excuses and Solutions to Internet Scam By Taiwo Ayodele
The US authorities announced charges against 80 people, most of them are Nigerians, in widespread wire fraud and money laundering scheme that generated millions of dollars from victims of the internet.
U.S. authorities on Thursday 22 August 2019 unveiled a grand jury indictment of 252 charges that indicted these people in an operation that obtained at least $ 46 million victims of Internet scam. So far, 70 people were arrested and detained in Los Angeles and other cities in the United States.
The investigation started in 2016 with a single bank account and a victim, said Paul Delacourt, the deputy director responsible for the FBI office in Los Angeles.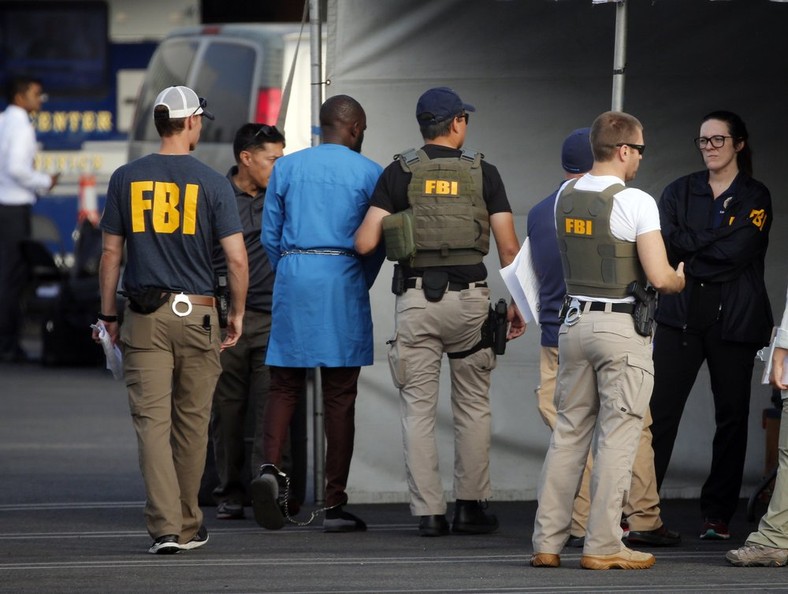 The suspects used different methods of scams to allegedly attack the elderly, people seeking romantic relationships and businesses to convince them to send money online (Wire Fraud).
While reacting, US Attorney Nick Hanna said this is one of the biggest fraud (Wire Fraud) in the history of the country. He said; "We believe this is one of the largest cases of its kind in US history. We are taking a major step to disrupt these criminal networks."
The indictment alleges that at least $6 million in fraudulently obtained funds was transferred through a money-laundering network operated by two Nigerians: Valentine Iro, 33, and Chukwudi Christogunus Igbokwe, 38.
Through business email compromise scams (BECs), fraudsters use hacked email accounts to convince individuals or businesses to make payments similar to actual payments due to legitimate businesses.
As part of the scam, scammers learn about key personnel in payable businesses, as well as the protocols needed to make electronic transfers in different companies and then turn to companies that regularly make payments via bank transfer.
The scams have become so rampant that in the first seven months of 2019, the FBI alone received nearly 14,000 complaints reporting BEC scams with a total loss of approx. $1.1 billion, a figure that almost equaled with reported losses for the whole year of 2018.
In another recent high-profile case, after a 13-month investigation, the FBI arrested Nigerian Obinwanne Okeke in an $11 million BEC fraud case. Prior to his arrest, Okeke had brought up a successful entrepreneur and appeared on a Forbes 30-under-30 list as well as a BBC Focus on Africa program.
While reacting to the news of another 80 Nigerians being arrested by the FBI on the fraud cases. Taiwo Ayodele, A West Africa Tax Leader and a member of PwC Global Board for leadership Development, highlighted reasons and solutions to the internet fraud scam. He, therefore, advised youths to be contended and live an honest life.
Read below the statements;
Taiwo Ayodele; There have been a series of negative press lately concerning some Nigerians abroad accused of wholesale frauds. Even though it's nothing new to associate Nigeria with fraud and the scale has become alarming and as a people. We all contribute to the 'christening' of our bad name.
If we do nothing differently, a time will come when the only people who do not seek citizenship of other countries will be those without a choice, then we will no longer have a country.
1- Poverty is not an excuse for crime, more than 3 billion people live in poverty including over 1.3 billion who live in extreme poverty across the world. Yet, the vast majority do not resort to crime. They believe in virtues of honesty and dignity.
2- Some of the greatest people, past and present, were poor people who turned their hunger into a determination to succeed against all odds without compromising their values.
3- Even if we assume that poverty is the reason for stealing then why steal so much when you only need a little to survive and start doing something meaningful?
4 – The problem is greed and society induced pressure to "blow" at all cost. We celebrate unexplained wealth and even those we know to be flaunting ill-gotten wealth are rewarded with all manners of recognition, awards and titles. People do whatever we reward!
5 – The very few corrupt politicians and other thieves that we manage to convict are given special welcome celebrations like heroes after their jail terms. So we condone and in fact encourage more stealing with our actions.
6- Many fraudsters even have the audacity to attribute their fraudulent wealth to God. They give testimonies (and say it is God oh), and the rest of us pretend it must be a miracle and pray for the same or bigger "breakthroughs".
7- And we celebrate relocating abroad as a sure way to become rich quickly without any slack for failure as if there are no poor people in those countries, even citizens.
8- So those who travel and are not so lucky to succeed quickly and legitimately face an additional burden of what society (including family and friends) will say or think of them. How will they explain that they did not "make it?"
9- To change this dangerous trend, we must start celebrating people for their values and the content of their characters rather than the cash they throw around, or the model of their cars, or the maker of their phones, size and location of their houses etc
10 – Government should start awarding national honours to everyday people who demonstrate exceptional virtues of hardwork, honesty, dignity and love for the nation.